Thank you so much Lindsey, from The Farmhouse Porch,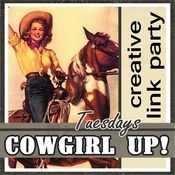 and Patti and Paula from Ivy and Elephants,
for featuring my Refreshed Porch !!!
It is so exciting when someone takes notice of anything on my blog...
but when I get picked out of so many wonderful and creative blogs and projects...
to be showcased...well it's the most exciting thing in the world for this little blogger!
Thank You!!
The Farmhouse Porch and Ivy and Elephants are 2 very wonderful blogs...and I hope you'll stop by and check them out...you won't be disappointed!
I have been Featured!
I have been featured at Coastal Charm's, Nifty Thrifty Tuesday!!
I am soooo excited to be chosen out of the many many wonderful Nifty Thrifty Post's!!
Please check it out, and see all of the nifty treasure's this week!

click here
I have been featured at Thrifty Decorating!!!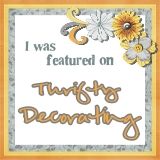 THANKS to Nicole for featuring me on Thrifty Thursday!!
I am so honored!!
Thanks Shannon from Cozy Home Scenes
for featuring me on your
Saturday's picks!!